Podkarpacie 2015 - relacja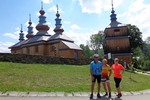 8 sierpnia 2015 roku o godz. 6.00 Michał, Jowita i Janusz wyruszyli z Łodzi samochodem do Przemyśla, by stamtąd zacząć wyprawę po Podkarpaciu. Po dotarciu do PTSM Matecznik i pożegnaniu kierowcy Wojtka, zaczęło się 3-dniowe zwiedzanie miasta i okolic ( głównie fortów Twierdzy Przemyśl i rejonu Kalwarii Pacławskiej ) We wtorek zaczęła się prawdziwa jazda na rowerze z pełnym ekwipunkiem. Pierwsze zjazdy i podjazdy przy wysokiej temperaturze i pod wiatr.
[ dalej >>]
Po drodze drewniane cerkwie, dwory i pałace. Dzień zakończony w okolicach Dynowa. Środa to przejazd przez Park Krajobrazowy Pogórza Przemyskiego i znowu podjazdy, zjazdy, drewniane i murowane cerkwie. Nocleg w Rybotyczach. Czwartek przez Pasmo Działu, Park Krajobrazowy Gór Słonnych ( długie podjazdy i zjazdy) docieramy do Soliny. Kolejny dzień to zwiedzanie tamy i rejs po Zalewie. W sobotę przez Ustrzyki Dolne, Smolnik do Ustrzyk Górnych.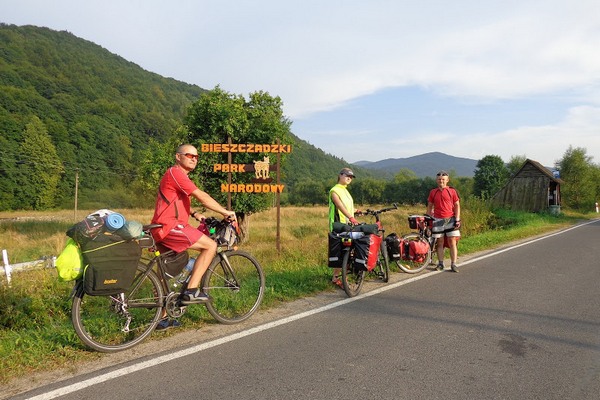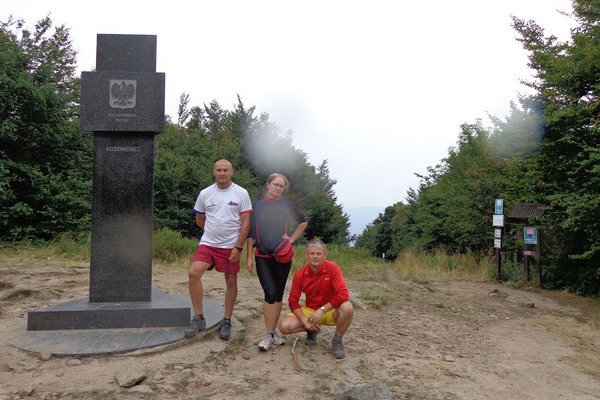 Po drodze zwiedzanie drewnianych cerkwi. Niedziela i Poniedziałek to dobre buty, plecaki i zwiedzanie Bieszczadzkiego Parku Narodowego ( Wołosate, Tarnica, Szeroki Wierch, Wielka Rawka, Krzemieniec ) Wtorek na rower i serpentynami na Wetline do Cisnej. Środa to buty, plecak w busa i dalszy ciąg zwiedzania Parku Narodowego ( Chatka Puchatka, Połonina Wetlińska ) Cały kolejny dzień to przejazdy kolejką wąskotorową na Przysłup i Balnicę. W piątek na rower i przez Komańczę, Turzańsk do Sanoka. Po drodze zwiedzanie drewnianych cerkwi łemkowskich. W sobotę przyjechał samochodem Rafał i zabrał całą trójkę do Łodzi.
Podsumowanie - 14 dni pod wiatr i przy temperaturze do 40 stopni. Do tego wjazdy i zjazdy momentami niebezpieczne dwa hamulce to trochę za mało :-) 500 km samej jazdy na rowerze, 40 km maszerowania po górach, noclegi pod dachami i namiotami, jedna awaria. Wyprawa bardzo urozmaicona i udana :-)
Tekst i foto: Michał Sz.