Relacja z wyprawy rowerowej po Polesiu Lubelskim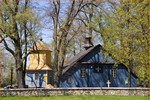 Relacja z wyprawy rowerowej po Polesiu Lubelskim w ramach Rajdu Kolarskiego PTTK "Trójprzymierze", zorganizowanego przez Lubelski Klub Turystyki Kolarskiej Welocyped w dniach 28.04. - 03.05.2012 r.
"Polesia czar, to dzikie knieje, moczary
Polesia czar, to dziwny wichru jęk
Gdy w mroczną noc z bagien wstają opary
Serce me drży, dziwny ogarnia lęk
Słyszę jak w głębi wód jakaś skarga się miota
Serca prostota wierzy w Polesia czar"
Aby choć w niewielkim stopniu przybliżyć uroki Polesia, posłużyłem się ostatnimi strofami wiersza "Polesie" autora J.Artura Kosteckiego.
Naszą wędrówkę po cudownej Poleskiej Krainie, rozpoczęliśmy od zwiedzenia Lubelskiej uroczej Starówki. W dalszą trasę z Lublina przez Pliszczyn, Łęczną, Maśluchy, Stary Uścimów, dotarliśmy do Starej Jedlinki, bazy zlotu. W ośrodku "Leśna Ryba", naszą łódzką grupę, organizatorzy zlotu, przyjęli z iście polską gościnnością. Zakwaterowano nas w przytulnych domkach, z pełnym zapleczem socjalno-sanitarnym. W sosnowym lesie, nad jeziorem, słychać było śpiew wielu gatunków ptaków oraz miły dla ucha rechot żab. Jednak nie było nam dane zbyt długie upajanie się powyższymi urokami, ponieważ organizatorzy zadbali o możliwość całodniowego zwiedzania okolic.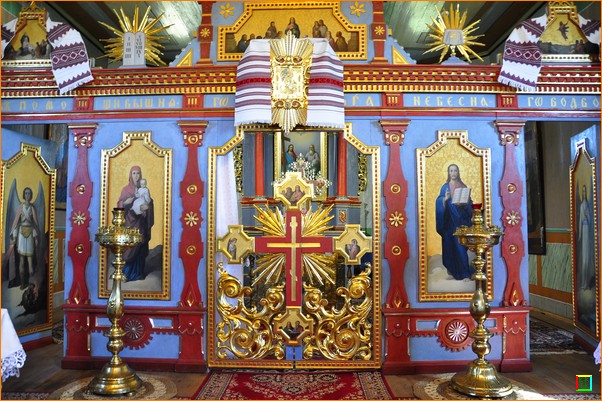 Drugiego dnia z rana, prawie stuosobowy peleton turystów wyruszył na trasę: "Śladami wschodnio - słowiańskiej tradycji cerkiewnej na Polesiu Lubelskim". Zobaczyliśmy i zwiedziliśmy m.in. cerkwie murowane w Dratowie i Sosnowicy, drewniane w Holi i Horostycie. W Holi również zwiedziliśmy niewielki skansen.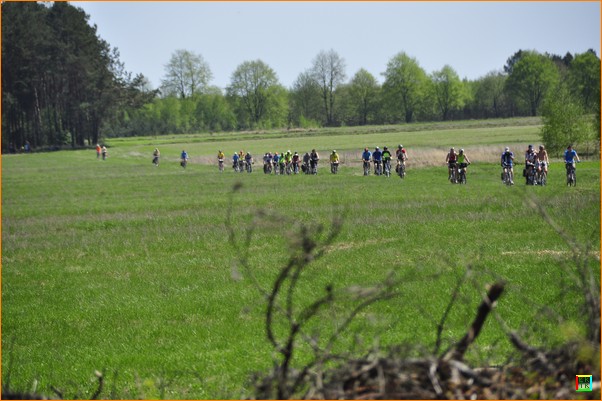 Trzeci dzień - to ziemia Parczewska. Trasa: Ostrów Lubelski z barokowym kościołem z poł. XVIII w. Jamy - Kaplica - Mauzoleum, wybudowana w hołdzie 152 mieszkańcom wioski, bestialsko zamordowanym w dniu 8 marca 1944 r. przez wojsko niemieckie. Siemień z drewnianym kościołem i późnobarokowymi kapliczkami w kształcie słupów, oraz wodnym młynem. Parczew - Bazylika Mniejsza z cudownym obrazem Matki Bożej Parczewskiej z XVI w., Parczewska Kalwaria.
Jezioro Obradowskie - rezerwat wodno-torfowiskowy.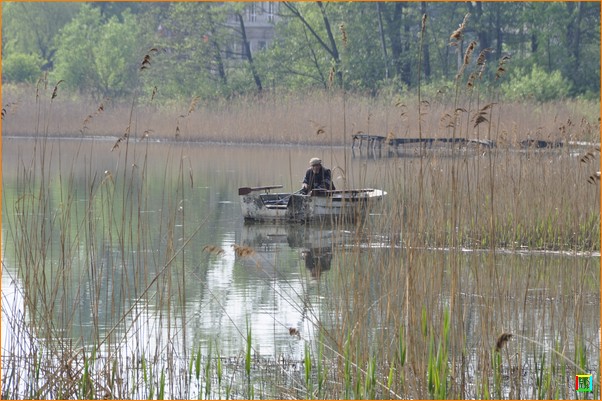 Dzień czwarty - "Poleski Park Narodowy"
Zwiedziliśmy Ośrodek Dydaktyczno - Muzealny Poleskiego Parku Narodowego, ścieżkę przyrodniczą "Żółwik". Z Ośrodka, ścieżką przyrodniczą "Spławy" po ponad dwu i pół kilometrowej wąskiej kładce, biegnącej przez bagna PPN dotarliśmy nad jezioro Łukie. Ścieżka przyrodnicza "Perehod", jechaliśmy groblami wokół rozległego kompleksu stawów. Ze schronu ornitologicznego i wieży widokowej, mogliśmy prowadzić obserwację ptasiego życia.
Dzień piąty - Hołownia, Do krainy rumianku.
Do Hołowni dotarliśmy przez Białkę, Uhnin, Kodeniec z zabytkowym drewnianym kościołem z 1795 r oraz cerkwią.
W Ośrodku Edukacji Regionalnej w Hołowni, gdzie można upiec chlep, ulepić garnek z gliny, znaleźć zioła "na smutek i serca bolenie", wędrować wśród łanów rumianku, uraczono nas regionalną potrawa - pierogami. Niewątpliwą atrakcją pobytu, był występ miejscowego Amatorskiego Teatru Ludowego z programem o zwyczajach i obyczajach ludności Poleskiej.
Wieczorem, w "Leśnej Rybie" odbyło się uroczyste zakończenie zlotu, było ognisko, kiełbaski, karkówka, sałatki. Do późnych godzin nocnych, przy dźwiękach gitary i wspólnym śpiewie, miło spędziliśmy czas, aż do momentu, gdy nad naszymi głowami rozszalała się burza i zaczął padać deszcz.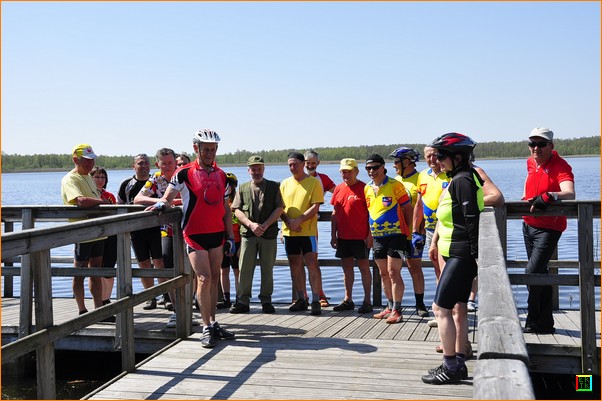 Dzień szósty - powrót do domu.
Po drodze do Lublina zwiedziliśmy w miejscowości Zawieprzyce nad rzeką Wieprz, ruiny murowanego pałacu, wzniesionego jako zamek w I poł. XVI w., Lamus oraz przepiękną kaplicę św. Antoniego Padewskiego wzniesioną w końcu XVII w.
W Lublinie, zwiedziliśmy były niemiecki obóz koncentracyjny Majdanek, odwiedziliśmy Stare Miasto i Zamek.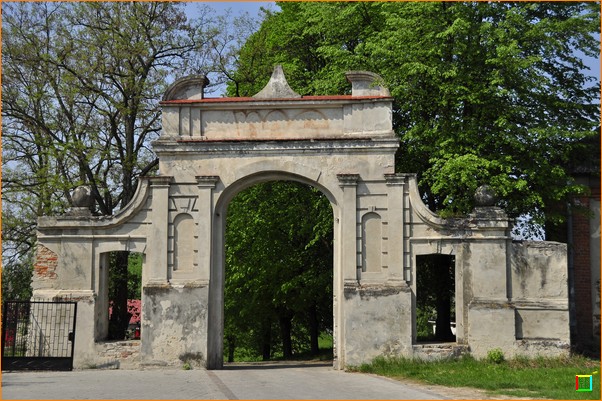 Posumowywując nasz pobyt na gościnnej ziemi Poleskiej, nie sposób wspomnieć o gospodarzach zlotu, którzy w perfekcyjny sposób przygotowali tą imprezę. Zadbali o piękne rowerowe trasy, groblami między jeziorami, stawami, drogami wśród lasów. Mieliśmy również możliwość jazdy wzdłuż kanału Wieprz - Krzna. Zwiedzanych miejscowości, rezerwatów oraz ciekawostek regionu było o wiele więcej niż w relacji. Wyjazd na trasy odbywał się we wczesnych godzinach rannych, 7.00, 8.00, jechaliśmy jedną grupą, prawie stuosobową, a powrót w godz, 17.00 - 18.00, na smaczną obiadokolację.
Po pezdrożach i piaskach Polesia, reprezentując nasz klub, jechali:
Ania Spychała, przemiła dziewczyna, dzielnie pokonująca dość trudne trasy, ze swym nierozłącznym aparatem fotograficznym /efekty widoczne powyżej/ oraz koledzy, którzy przed upałem i piaskami Polesia się nie ugieli: Rysiu Gołembowski, Stasiu Korczyński, Tomek Prasał, Jurek Szczeciński i relacjonujący imprezę Wiesiek Grabowski.
Zobacz więcej zdjęć [ do FotoGalerii >>]
"Ziemio Poleska!
W sercu i oczach Cię noszę.
Bądź na wieki czysta i gościnna,
o to Cię proszę! (...)"
Fragment wiersza Aldon Dzięcioł "Polesie. Moja Mała Ojczyzna"