Relacja z I-go Zlotu Turystów Rowerowych Ukrainy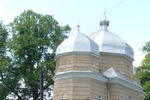 Na zaproszenie organizacji turystycznej Ukrainy i naszego kolegi Michała Raczyńskiego, współorganizatora zlotu, niestety, tylko dwie osoby z naszego klubu wzięły udział w tej imprezie, Ryszard Gołembowski i Wiesiek Grabowski.
Naszą wędrówkę rozpoczęliśmy od Przemyśla, pięknego miasta, otoczonego pasmem wzniesień. Zwiedziliśmy: Stare Miasto, Kamienice w Rynku z XVI i XVII-wiecznym rodowodem. Podziwialiśmy budowle sakralne zbudowane na stromym stoku, m.in. Kościół Franciszkanów z imponującym bogactwem rzeźb i fresków, archikatedrę rzymskokatolicką z dzwonnicą (71 m.wysokości). Stromym podejściem weszliśmy na zamek, wzniesiony przez Kazimierza Wielkiego. Z platformy widokowej podziwialiśmy panoramę miasta oraz wzniesień z fortyfikacjami Twierdzy Przemyśl.
Po noclegu, w przyjaznym turystom schronisku młodzieżowym "Matecznik", wczesnym rankiem, udaliśmy się do przejścia granicznego w Medyce. Granicę Polsko-Ukraińską przekroczyliśmy bez problemów, w kilka minut, potrzebnych służbom na podstęplowanie paszportów. Z Medyki, przez Mościska, drogą na sporych odcinkach w remoncie, pod wiatr, udaliśmy się w kierunku Lwowa, do którego dotarliśmy bez przeszkód. We Lwowie mieliśmy okazję zapoznać się z jego specyficznym ruchem ulicznym. Jadąc po "bruku lwowskim", po chodnikach, idąc pieszo, udało się nam przebyć, dojechać do jego granic. Miasto, praktycznie bez przejść dla pieszych, zatłoczone do granic możliwości, kierowcy używający sporadycznie kierunkowskazów, piesi przeciskający się między jadącymi pojazdami i my rowerzyści z Polski, uczący się i poznający tę nową dla nas specyfikę ruchu ulicznego.
Przed godz. 18.00 dotarliśmy do bazy zlotu, położonej w sosnowym lesie, oddalonej od Lwowa ok. 30 km. w m. Ziwołki. Przejechaliśmy tego dnia 136 km. Na miejscu, powitali nas organizatorzy i kolega Michał Raczyński, sporą lampką wina. Koleżanka Olenka załatwiła z nami formalności, w dwójkę zostaliśmy zakwaterowani w czteroosobowy domku. Spotkałem wielu znajomych z Ukrainy i Polski. W zlocie brały udział również dwie miłe dziewczyny z Rosji.
Następnego dnia, po przedstawieniu organizatorów zlotu, udaliśmy się dość liczną grupą do m. Żółkiew.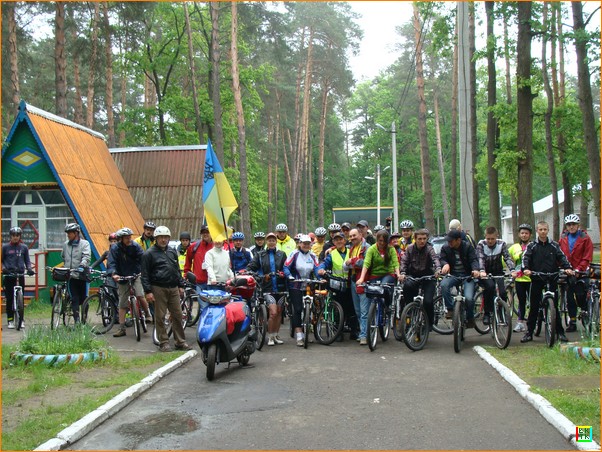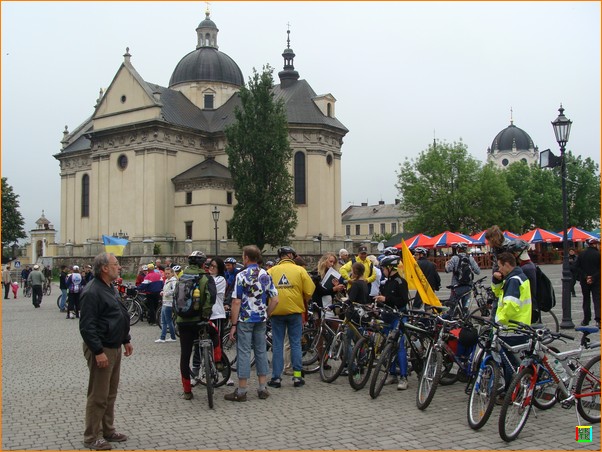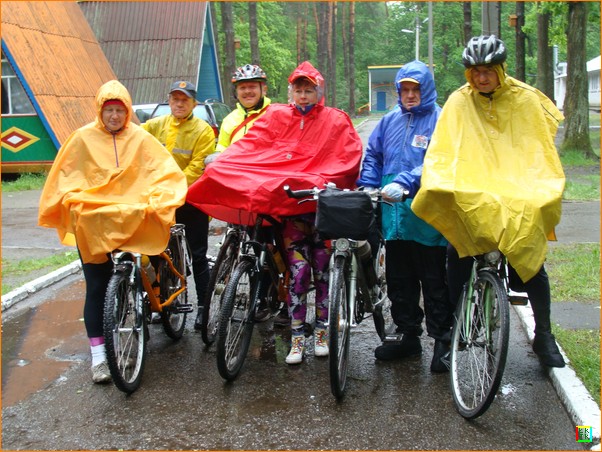 W obecności, dość licznej grupy notabli, władz Lwowa, Żółkwi oraz przedstawicieli różnych organizacji, po powitaniu uczestników, przemowach, nastąpiło oficjalne otwarcie zlotu. Były również występy artystyczne, była też ciepła herbata. Tego dnia było dość chłodno. Podczas zwiedzania, rowerów pilnowała miejscowa policja.
Na zwiedzanie miasta zaprosiły nas dwie przewodniczki, jedną z nich była nasza koleżanka, lwowianka, Wlada. Żółkiew, należała do najpiękniejszych miast Galicji, niektórzy porównują ją do Zamości. Zwiedziliśmy m.in. kościół św. św. Wawrzyńca i Stanisława, cerkiew ojców Bazylianów, zamek z pocz. XVII w. kościół Dominikanów p.w.Wniebowzięcia NMP z 1655 roku, obecnie cerkiew grekokatolicka. Drewnianą cerkiew Narodzenia NMP. Synagogę z końca XVII w. o charakterze obronnym, w remoncie od wielu lat.
Wieczorem, odbył się konkurs piosenki turystycznej. Na drugim miejscu uplasował się klub z Polski "Ondraszek" z Cieszyna. Po konkursie, do późnych godzin nocnych, słychać było śpiew, wspólne śpiewanie, po Ukraińsku, Polsku, Rosyjsku.
Następny dzień, to już czwartek, wyjazd do Lwowa. Deszcz i zimno. Na rogatkach Lwowa czekała policja w radiowozie, która holowała nas do centrum miasta. Na dziedzińcu ratusza lwowskiego, ponowne powitanie, dla mediów, telewizji, radia i prasy. Zwiedzaliśmy w dość szybkim tempie z przewodniczkami, Stare Miasto. Kwartał ormiański, żydowski. Rynek, ratusz, wejście na wieżę ratusza, podziwialiśmy budowle i panoramę Lwowa. Po zwiedzaniu, obiad na jednej z uczelni Lwowskiej. Następnie przejazd Prospektem Swobody. Na ok. pół godziny zatrzymaliśmy się obok Opery Lwowskiej. Powrót, w lepszej pogodzie, do bazy Rosyjka, tak nazywa się ośrodek, w którym gościliśmy.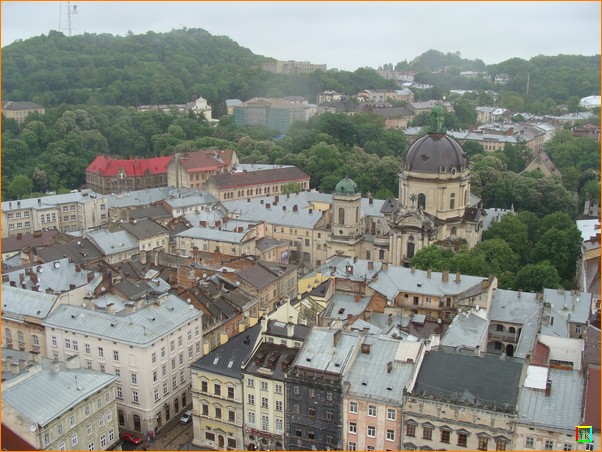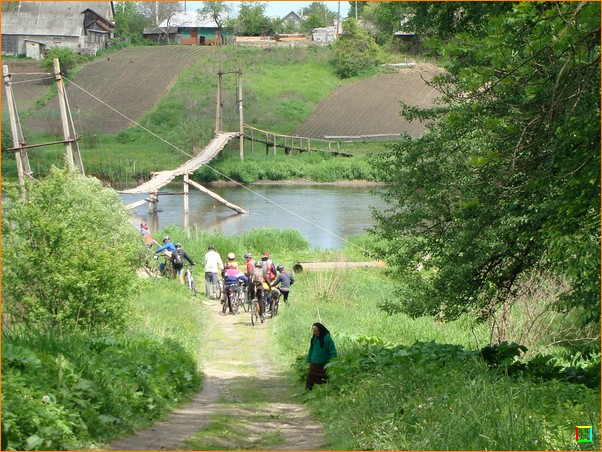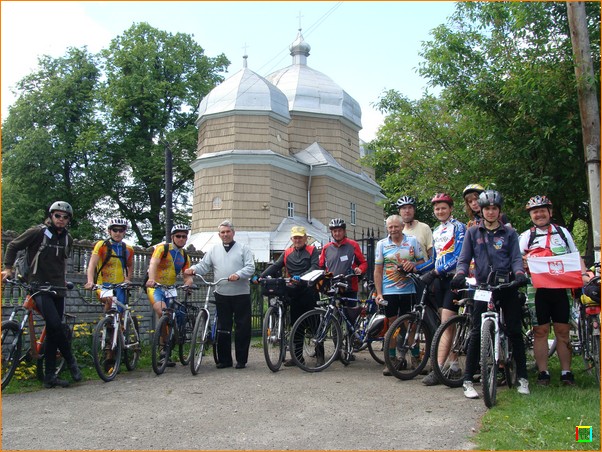 Piątek, pogoda przyjazna. Tego dnia odbył się maraton na dystansie 116 km. Uczestników, kilkanaście osób, w tym czterech Polaków, ja z Rysiem i Zbyszek z Kazikiem z Cieszyna. Wspólnie zwiedziliśmy jedenaście drewnianych cerkwi, kilka kościołów. Przeprawilśmy się po wąskim, bujającym się moście wiszącym, przez rzekę Bug Zachodni. Byliśmy zaproszeni na obiad (niektórzy porównywali ten posiłek do uczty weselnej) do zagrody chłopskiej, w miejscowości, gdzie urodził się i wychował nasz kolega Michał Raczyński. Tempo jazdy, pomimo fatalnej nawierzchni dróg, było w granicach 25 km/godz. Przebieg trasy, to boczne drogi, jechaliśmy przez Kamianka Buzka - Tadani - Streptiw - Wołicja Derewljanska - Ostriw - Kudriawiczi - Sgar - Żowtanci.
W sobotę, przy pięknej słonecznej pogodzie, wspólnie z uczestnikami zlotu, udaliśmy się do miejscowości Krechiw. Po podejściu zboczem, dotarliśmy do Monastyru św. Mikołaja o. Bazylianów. Jest to miejsce, dla prawosławnych Ukraińców, jak Jasna Góra w Częstochowie dla Polskich katolików. Po zwiedzeniu Monastyru, udaliśmy się na odpoczynek, połączony z poczęstunkiem. Tego dnia byliśmy również na dziale wodnym morza Bałtyckiego i Czarnego. Jechaliśmy duktami, ścieżkami leśnymi, pokonując jary, wąwozy, doliny. Podziwiając piękno i dzikość przyrody tych terenów. Jadąc ścieżką po "grani górskiej", podziwialiśmy w dole rozległe zielone łąki. Odwiedziliśmu hodowle dzikich koni Tarpanów. Po tej górskiej wędrówce, zmęczeni, lecz zadowoleni, wieczorem dotarliśmy do bazy zlotu.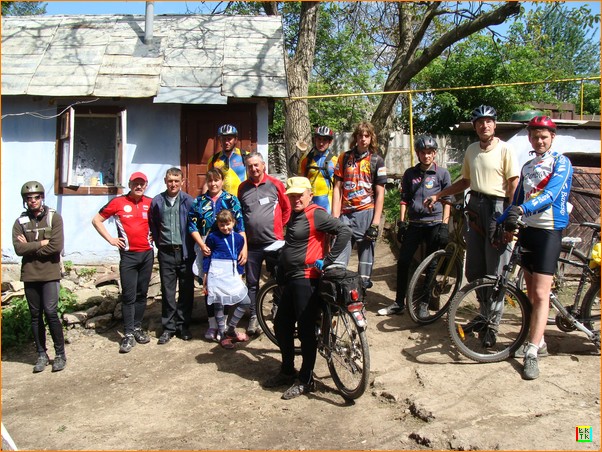 Niestety, był to już ostatni dzień zlotu.
W niedzielę wczesnym rankiem, wraz z Rysiem, przy pięknej upalnej pogodzie udaliśmy się w kierunku naszego kraju. Trasą przez Żółkiew, a dalej drogą górską (długie podjazdy i zjazdy), z masą dziur i nierówności, pokrytą warstwą przypominającą glinę, po przejeździe samochodu (masziny, jak mówią Ukraińcy), powstawał olbrzymi tuman pyłu, przez który musieliśmy się przebijać. Przez miejscowości: Fina, Łozino, Iwano-Frankowe, dotarliśmy do Gródka Jagielońskiego. Jednak było warto, droga piękna widokowo. Dalej, drogą cywilizowaną dotarliśmy do przejścia granicznego w Medyce. Bez kolejki i kontroli bagażu, osobnym przejściem pokonaliśmy granicę, patrząc z pewnym zażenowaniem na tłum Ukraińców czekających na odprawę.
Po przebyciu tego dnia 144 km. dotarliśmy do schroniska w Przemyślu. Po kąpieli pod prysznicem i zjedzeniu obiadokolacji, udaliśmy się na zwiedzanie Przemyśla. Zwiedziliśmy kościół Reformatorów z XVIII w., przepięknie odnowiony dworzec PKP z końca XIX w. Późnym wieczorem powróciliśmy do schroniska. Następnego dnia czekała nas całodniowa podróż pociągiem do Łodzi.
Pobyt na zielonej Ukrainie, jak określił to Rysio - jest tu zielono jak w piosence "Zielona Ukraina". Serdeczność naszych zlotowych przyjaciół Ukraińców oraz spotykanych ludzi, kopuły cerkiewek mieniące się w promieniach słońca, dzika i piękna przyroda, na trwale zapisze się w naszych wspomnieniach z rowerowych wędrówek po Ukrainie.