01.04.2012 wycieczka niedzielna

Skoro sezon rowerowy się rozpoczął na dobre, więc jak to jest w zwyczaju ŁKTK zorganzował kolejną niedzielną wycieczkę. Tym razem przygotowaną i prowadzoną przez kol.Tomka Majcherczyka.
Pierwszego kwietnia na Starym Rynku o godzinie dziewiątej stawili się najzagorzalsi cykliści, którym nie straszna była kapryśna aura.
Przygotowana trasa miała przebiegać przez Zgierz, Grotniki, Rosanów, znowu Zgierz, a zakończyć w Łodzi Pn.
Po przywitaniu się i zapoznaniu z trasą, czteroosobowa grupka cyklistów ruszyła w stronę osiedla Radogoszcz. Po minięciu tego osiedla wycieczka udała się skrajem Lasu Harcerskiego do ul Szczecińskiej a dalej do Zgierza.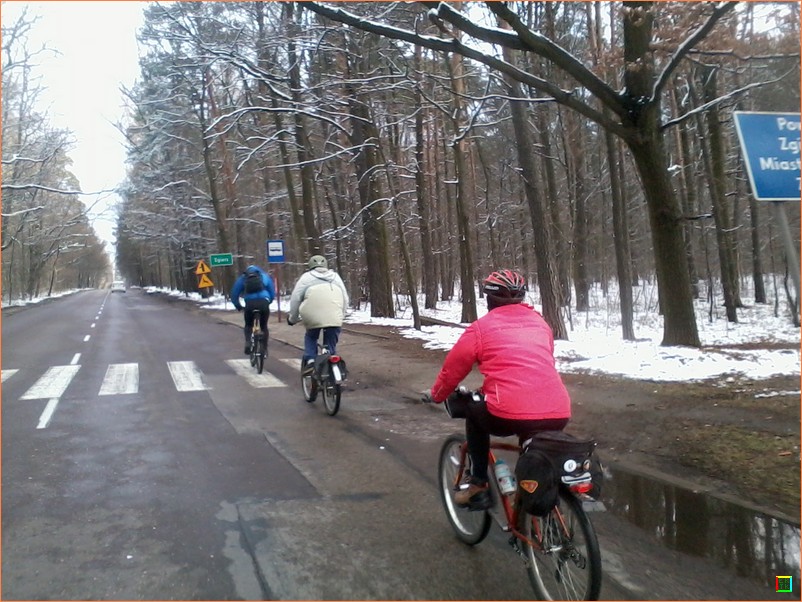 W Zgierzu postukaliśmy chwilę o bruki podjazdu pod kościelne wzgórze i zjeżdżając w dół skierowaliśmy się w stronę Jedliczy Łódzkich.
Do Jedliczy dojechaliśmy szosą biegnącą z Aleksandrowa, zatrzymaliśmy się na chwilkę przed sklepem na przejeździe, i pomknęliśmy drogą przez las w stronę Grotnik. A ponieważ przez wiekszą część przejechanej dotychczas trasy padał śnieg, zastanawialiśmy się czy to raczej nie jest pożegnanie zimy, a nie przywitanie wiosny....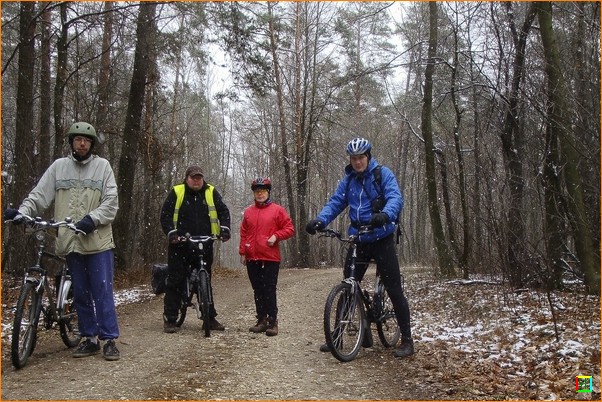 Na szczęście otwarty był bar Sosenka i mogliśmy zatrzymać się na herbatkę, a jako że wycieczka utrzymała jednak status wiosennej zrobiliśmy to rozsiadając się w ogródku pod parasolkami, a nie w ogrzewanym wnętrzu....
Po śniadanku pojechaliśmy nad zalew na rzece Lindzie a następnie malowniczo biegnącym przez las grotnicki czerwonym szlakiem, w lesie śnieg dokuczał jakby mniej. Szlakiem tym przejechalśmy przez teren rezerwatu przyrody, starą bażanciarnię i urokliwe ostępy leśne,a po dotarciu na skraj lasu zatrzymaliśmy się na chwilę zadumy przy niszczejącym cmentarzyku pierwszych cywilnych ofiar hitleryzmu z 39r nad którym góruje smutny jednoramienny krzyż.... za kilkaset metrów przy krajowej trasie nr 1 do Gdańska jest jeszcze jedno miejsce pamięci, i ono jakieś takie zapomniane mimo że kilkanaście metrów od ruchliwej arterii...W Lućmierzu prowadzący spytał nas czy mamy ochotę na świeżowędzoną gorącą rybę....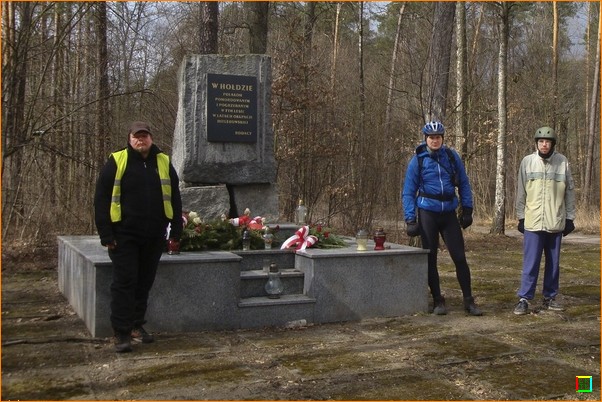 Dwa razy nie musiał, w tumanach śniegu potoczyliśmy się wzdłuż Rosanowa w kierunku Emilii A następnie skrajem Sokolnik do wsi Ciosny.
W starym murowanym młynie wodnym, który działa do tej pory mieszka przedsiębiorczy młynarz który oprócz rzeczonego młyna ma i tartak i stawy hodowlane pełne dorodnych pstrągów i łowisko wędkarskie, a także własną wędzarnię, z powodu której do niego zawitaliśmy. Niestety sieja którą mi zaoferował gabarytami przypominała kajak więc musiałem poprzestać na podziwianiu, za to Ewa stała się właścicielką śliczniutkiego pstrąga (pyszniutkiego - dopisek: Ewa B/).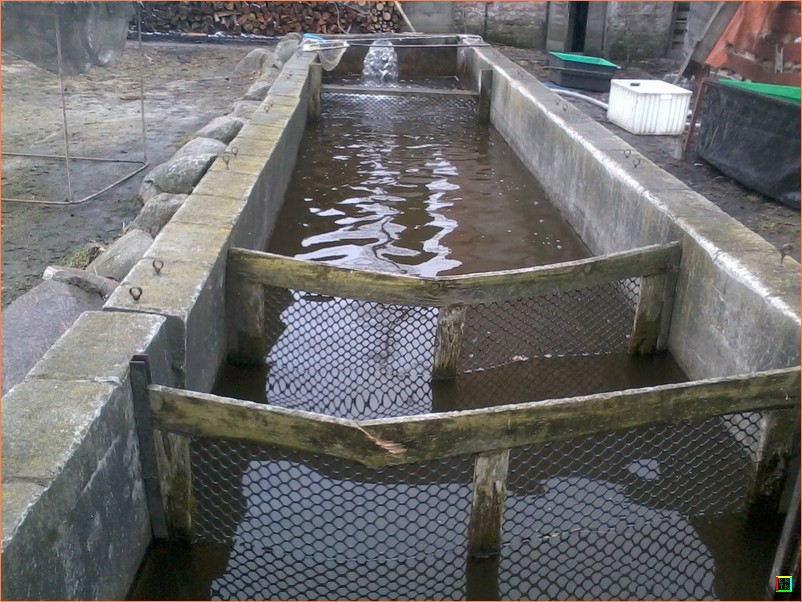 Z Ciosen poiechaliśmy przez Dzierżązną do Białej, a następnie w stronę Zgierza.
Pogoda poprawiła się, wyszło słońce i zrobiło się bardzo przyjemnie.
Przed Zgierzem postanowiliśmy się rozdzielić żeby móc wjechać do Łodzi z dwu różnych kierunków, przecież to prima aprilis...
Więc jedni pojechali od strony pn zachodniej a drudzy pn wschodniej, przez Dąbrówkę Krzywie i Łagiewniki... gdzie wycieczka się zakończyła.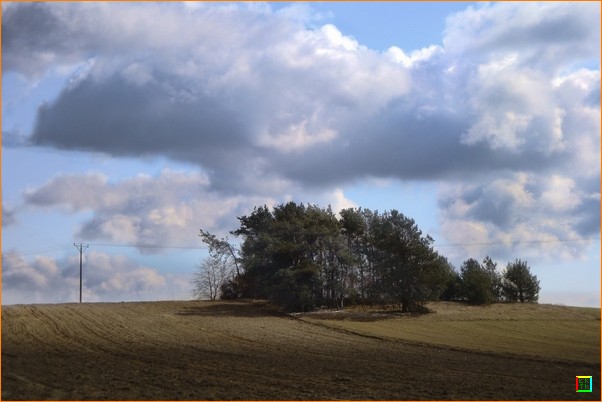 Podsumowując:
Trasa śliczna
Pogoda była (każda)
Ludzie wytrwali
Prowadzący bardzo demokratyczny (Tak, bardzo. Dopisek: Ewa B).

---
tekst: Włodek Pastusiak foto: Ewa Barańska