wycieczka z 28 maja - relacja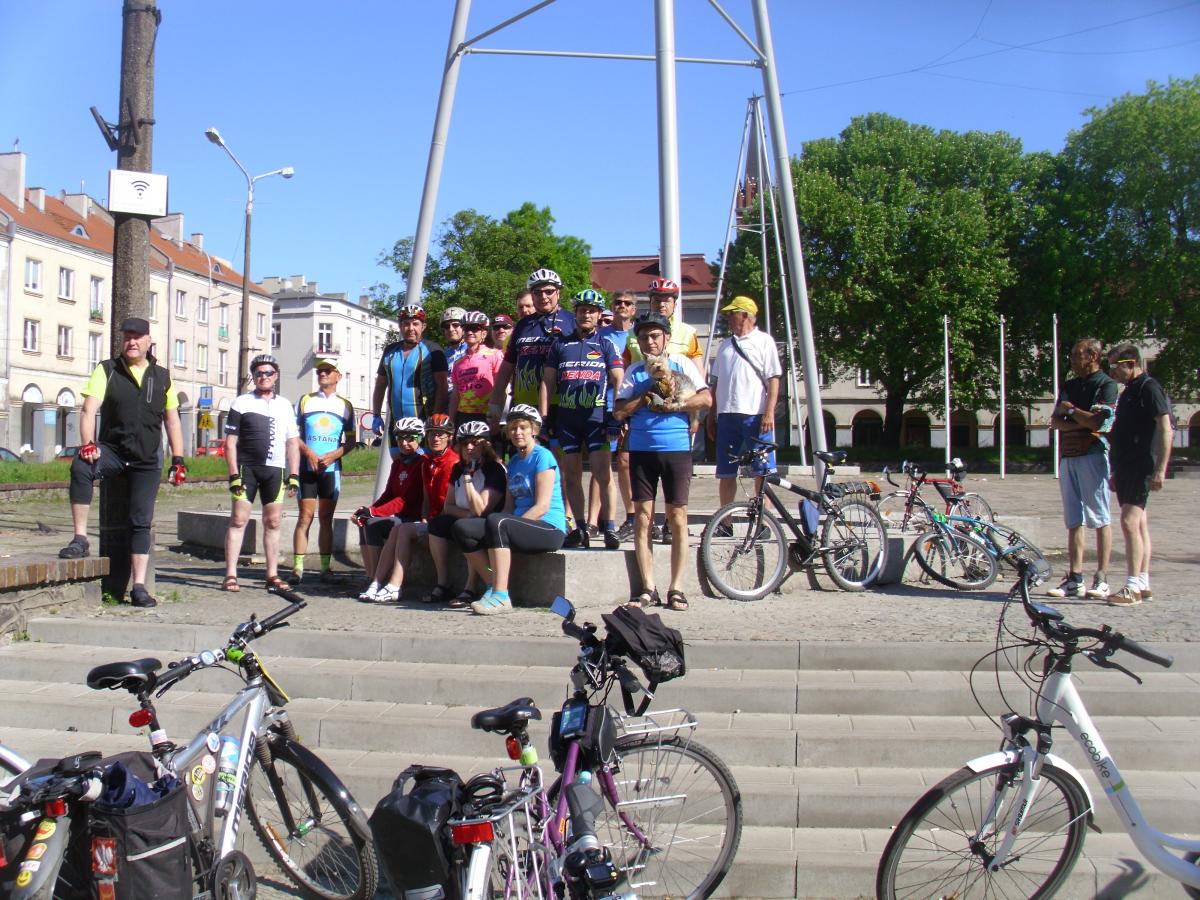 W minioną niedzielę 28 maja odbyła się druga wycieczka p.t. 'Dookoła Łodzi", część południowa miasta.W przeciwieństwie do poprzedniej trasa tej była łatwiejsza, przeważały bowiem ścieżki rowerowe, asfaltowe drogi o niewielkim natężeniu ruchu, tm samym dość bezpieczne.
Piotrkowską, Al. Piłsudskiego, Józefiaka, następnie Ofiar 11 Września dojechaliśmy do Wiskitna.
Pierwszy postój, to niewielki park zwany Parkiem Wiejskim przy zbiegu ulic Kolumny i Tomaszowskiej, tu troje dołączyło do grupy. Cień, ptaków śpiew umilały nam około półgodzinną przerwę na tym skwerze. Stąd także spokojną trasą przez Bronisin, Konstantynę zmierzaliśmy do Rudy Pabianickiej. Po drodze druga przerwa przy sklepie na lody dla ochłody. W Rudzie Pab. opowiedziałem trochę historii o tej miejscowości, która do r. 1932 miała prawa miejskie, zamieszkiwało ją wówczas okolo17 tys. osób. Z tej liczby większością byli niemieccy osadnicy, którzy
nazwali nieoficjalnie tę miejscowość Berlinkiem.
Z Rudy prawie szaleńczym zjazdem ulicą Popioły
dojechaliśmy do Parku im. 1 Maja, czyli Stawów Stefańskiego, które objechaliśmy wokół już
w tempie pieszego. Woda skrzyła w promieniach wiosennego dość aktywnego tego dnia słońca.
Dalszy kierunek, to Lublinek. Przy ul. Pabianickiej/ Reymonta zaproponowałem grupie wstąpić na
cmentarz ewangelicko- augsburski, zresztą miałem to w programie wycieczki. Znajdują się tu bogate
z czarnego granitu, czy może raczej marmuru grobowce rodu Cyganów. Umiarkowaną prędkością
dotarliśmy do uroczyska Lublinek, gdzie zachęciłem uczestników wycieczki do wzięcia udziału
w wymyślonym przeze mnie konkursie - rzut piłkami do tenisa ziemnego do tarczy przymocowanej
na drzewie. Było wówczas wiele wesołości. Najcelniej rzucał nasz klubowy kolega Marek Jezierski,
dostał gromkie brawa i dyplom. Z pań najlepiej spisały się Ania Brzezińska i Mireczka Sendal, ale
cóż, nagroda była jedna. Być może w przyszłości ten rodzaj zawodów będzie włączony do
dyscyplin olimpijskich che,che,che
Po konkursie podziękowałem uczestnikom w liczbie 24 osób za fajną przejażdżkę 45km.
Wycieczkę prowadził i opisał Alek
zdjęcia moje, Adama Tomańskiego i Marka Jezierskiego
z turystycznym pozdrowieniem Aleksander Rzadkiewicz