Wycieczka niedzielna 24.07.2016r. - relacja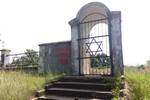 Wycieczka "Judaika" czyli szlakiem Żydów w Łodzi i okolicach Była to pierwsza wycieczka z klubu im. Henryka Gintera poprowadzona przeze mnie. Wymyśliłem zupełnie nową trasę, która spodobała się zarządowi klubu. Niedziela 24 lipca powitała nas ciepłą i słoneczną pogodą. Na miejscu zbiórki jeszcze o 8:45 zjawiło tylko kilka osób, jednak o 9:00 było ich już kilkanaście. Miłą niespodzianką była nieco ponad roczna Helenka, która przyjechała z tatą w przyczepce rowerowej. Po krótkiej odprawie ruszyliśmy w kierunku pierwszego obiektu do zwiedzania – synagogi Richterów przy ul. Rewolucji 28. Jest ona jedyną zachowaną przedwojenną oraz jedną z dwóch czynnych synagog w Łodzi. [ dalej >>]
Następnie pojechaliśmy na Pomorską 18 do siedziby Gminy Wyznaniowej Żydowskiej, gdzie znajduje się najczęściej odwiedzana synagoga w Łodzi - regularnie odprawiane są w niej nabożeństwa. Gmina prowadzi dom dziennego pobytu dla osób starszych, koszerną restaurację "Cafe Tuwim", sklep koszerny, Centrum Kultury i Historii Żydów, dom gościnny "Linat Orchim", jesziwę "Szomrej HaDat", bractwo pogrzebowe "Chewra Kadisza", bractwo "Bikur Cholim", koszerną stołówkę charytatywną oraz mykwę. Dalej udaliśmy się do Parku Ocalałych.
Trasa wycieczki plik .gpx Tomek
Jest on najmłodszym parkiem w Łodzi, usytuowanym w dolinie rzeki Łódki, pomiędzy ulicami Wojska Polskiego, Oblęgorską i ogródkami działkowymi przy ul. Źródłowej. Z parku pojechaliśmy na ul. Zmienną, gdzie znajduje się wejście na Kirchol – oficjalna nazwa Nowy Cmentarz Żydowski przy ulicy Brackiej. Ponieważ zwiedzanie tego obiektu (największego cmentarza żydowskiego w Europie po berlińskim) zajęłoby zbyt dużo czasu, ograniczyliśmy się tylko do zwiedzenia domu pogrzebowego. Następnie pojechaliśmy na Stację Radegast. Jest to oddział Muzeum Tradycji Niepodległościowych w Łodzi, przy al. Pamięci Ofiar Litzmannstadt Getto 12 (niedaleko ul. Inflanckiej i Stalowej) - zespół memoriałowy i niewielkie muzeum poświęcone miejscu i dziejom łódzkiego getta w oryginalnym byłym budynku magazynowym. Pan z ochrony otworzył nam bramę do tunelu, w którym znajduje się m.in. ekspozycja oryginalnych list Żydów wywożonych z tej stacji do obozów podczas II Wojny Światowej. Zwiedzając teren Stacji powinniśmy zsiąść z rowerów, bo to jednak miejsce pamięci. Następnie pojechaliśmy ulicami Inflancką, Pojezierską i Brukową w kierunku Aleksandrowa Łódzkiego, gdzie przy ul. Górnej znajduje się cmentarz żydowski z 1822 r. Niestety jest on bardzo zaniedbany, zbudowane tylko solidne ogrodzenie.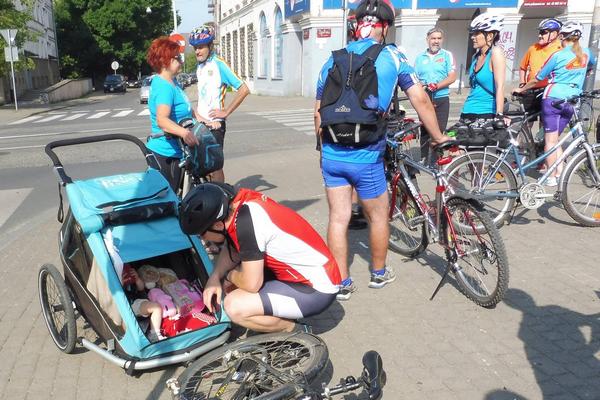 Więcej zdjęć w galerii Tomka [ zobacz >> ]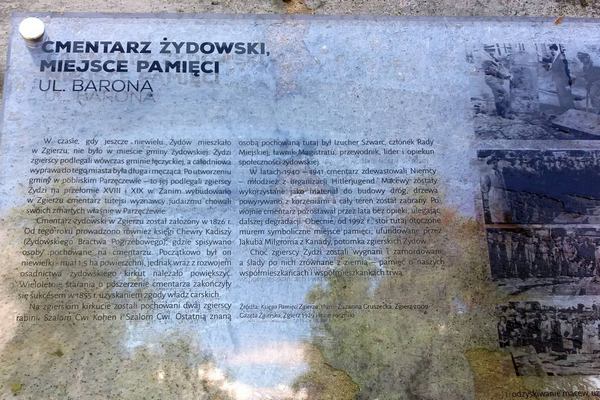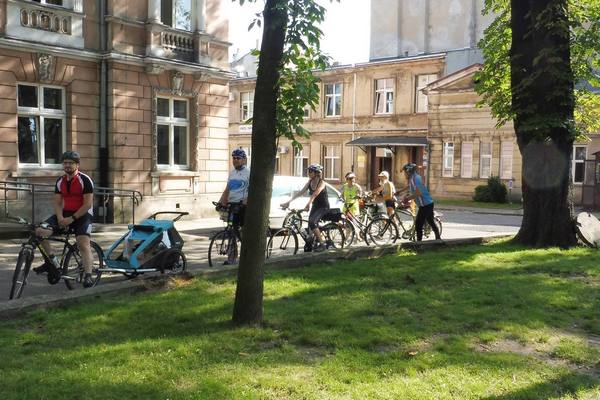 Podobnie jest w Zgierzu przy ul. Barona, gdzie położony jest kolejny obiekt naszej trasy – cmentarz żydowski założony w 1826 r. Ze Zgierza pojechaliśmy w kierunku Grotnik, gdzie na ławeczkach przed sklepem urządziliśmy sobie długi postój. Po odpoczynku i nabraniu sił udaliśmy sie w kierunku przedmieść Ozorkowa. Tam znajduje się cmentarz żydowski, założony prawdopodobnie w XIX w., pomiędzy obecnymi ulicami: Wrzosową, Graniczną, Sosnową i Poziomkową. Zajmuje on działkę w lesie o przybliżonych wymiarach 150 x 135 m. Niestety po tym cmentarzu zostało tylko kilkanaście potłuczonych macew ukrytych w zaroślach, część z nich porozrzucano na niewielkiej polance pełnej śmieci oraz pustych butelek i puszek. Szkoda, że nikt nie pomyślał o zabezpieczeniu takiego miejsca przed dewastacją. Z Ozorkowa przez Sokolniki pojechaliśmy w kierunku Białej. Tam przez sklepem na ławeczkami pod daszkiem urządziliśmy kolejny postój. Po nim pojechaliśmy w kierunku Szczawina, następnie przez Glinnik do wsi o nazwie Palestyna, gdzie był ostatni punkt programu wycieczki. Stamtąd przez Józefów i Janów dojechaliśmy na krańcówkę autobusu 51A przy ul. Okólnej, gdzie nastąpiło rozwiązanie wycieczki. Uczestnicy byli bardzo zadowoleni i podkreślali jej ciekawy temat. Podziękowania dla doświadczonych kolegów - Andrzeja G. i Bogdana K. za pomoc przy prowadzeniu wycieczki.
Wycieczkę prowadził i opisał Tomasz H.