Wiślana Trasa Rowerowa 2015 - relacja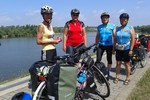 "Płynie Wisła, płynie, po polskiej krainie..."
11.07.2016 r. Marek, Wiesia, Mira Asia i ja, pisząca te słowa, wyruszamy na naszą wyprawę.
Do Wisły dojeżdżamy PKP. Nocleg w gościnnym schronisku PTSM "Wiecha" w Ustroniu. Marek objeżdża z nami Wisłę, pokazując najciekawsze miejsca: muzeum, skocznia, luksusowy Hotel Gołębiewski, stary cmentarz, parada starych samochodów, Pałac Myśliwski Habsburgów pomnik rzeki Wisły, zapory - atrakcji starcza nam na dwa dni. No i oczywiście podjazd do schroniska na Przysłopie, rowery odpoczywają a my idziemy na Baranią Górę. [ dalej >> ]
Następne dni to sumienne wypełnianie założeń wiślanego szlaku: Muzeum Hutnictwa i Kuźnictwa w Ustroniu, Skoczów, Wisła Mała - piękny, drewniany kościół z sobotami, Goczałkowice Zdrój a w nich piękna stara zabytkowa pijalnia, Grzawa i Oświęcim, gdzie śpimy w Ośrodku Salezjańskim. Poranek 14.07. przywitał nas ulewą. Po zwiedzeniu Obozów udaliśmy się do Zatora (Kościół św. Wojciecha i Jerzego - miły, fajny ksiądz za to gospodyni?! przeciwieństwo Michałowej z "Rancza") Po 90 km dotarliśmy do Tyńca.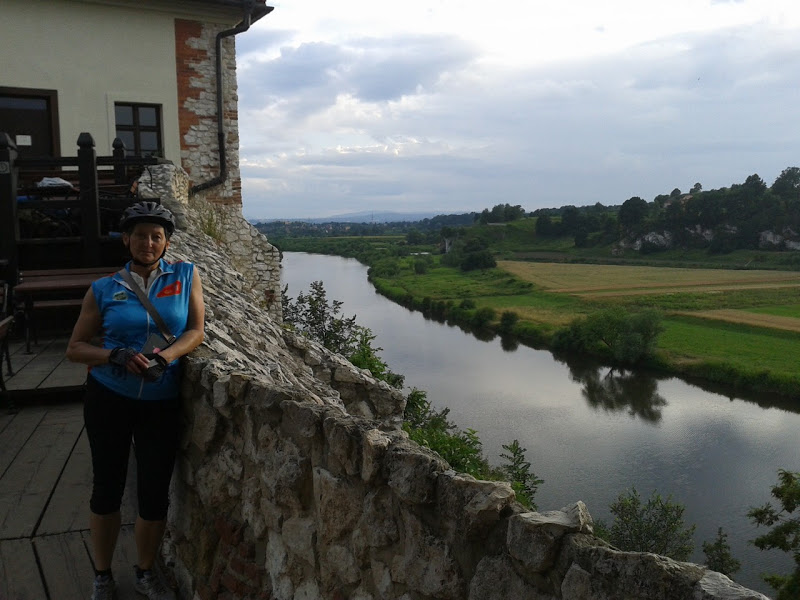 Więcej zdjęć w fotogalerii [ zobacz >>]
Benedyktyński klasztor przywitał nas wzniosłą atmosferą, pięknymi widokami. Noc w schronisku PTSM na Oleandrach. Kraków to turystyczny "amok" - zwiedzamy w tempie ekspresowym Wawel, rynek, kościół Św. Andrzeja (mój ulubiony - niestety remont), Mariacki, Św. Piotra i Pawła, smoka wawelskiego, papieskie okno, kawa przy Sukiennicach i drogą rowerową jedziemy do Nowej Huty. Zaglądamy po drodze do Muzeum PRL-u fajnie, pełni entuzjazmu, młodzi ludzie zapraszają nas "w podróż do naszych lat dziecinnych i burzliwej młodości". A czas nieubłaganie płynie - tyle kilometrów przed nami, tyle ciekawych, nieodkrytych miejsc....
Sanktuarium Krzyża Świętego, Zamek Niepołomice i nocleg w Woli Batorskiej u bardzo sympatycznych ludzi.
Hebdów, Przemyków, Opatowiec i Nowy Korczyn - nasze sakralne zabytki, gdzie pokolenia Polaków szukały nadziei i wiary, by przetrwać ciężkie czasy. 86 km w trasie a na koniec trochę szalonego dzieciństwa - spotkanie z Koziołkiem Matołkiem czyli Pacanów. I znowu Marek dla swej gromadki załatwia nocleg - eksklusive, w Zborówku w Hotelu MARCO.
Szczucin - wspaniałe Muzeum Historii Drogownictwa nasi drogowcy powinni się tam udać na korepetycje, może nie byłoby tylu dziur w nawierzchni naszych ulic. W gablotach są przekroje nawierzchni - baaardzo ciekawe!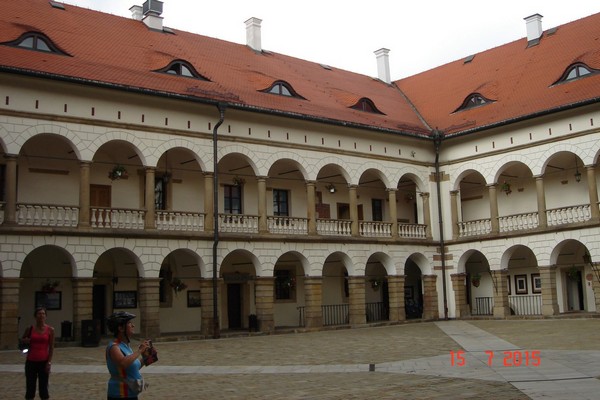 Więcej zdjęć w fotogalerii [ zobacz >>]
Baranów wita nas renesansowymi krużgankami, zwiedzamy z przewodnikiem, w Tarnobrzegu dostajemy piękną pieczątkę z Sanktuarium Matki Bożej Dzikowskiej i po 100 km w trasie! jesteśmy w Sandomierzu. Śpimy w bursie na ul. Wojska Polskiego, ale przed snem idziemy zobaczyć Sandomierz nocą. Księdza Mateusza na rynku nie było, ale turystów gromada (i my też) podziwialiśmy uroki tego pięknego miasta. Rano zwiedzamy Muzeum Diecezjalne w tzw. Domu Długosza, piękny zielny ogród, spotykamy sandomierski mieszczki z czasów naszego kronikarza i po wspólnej fotce ruszamy do Zawichostu. Tam Marek osobiście sprawdził stan wody na Wiśle, a my na skwerku raczyłyśmy się piwem bezalkoholowym - sakramencki upał! Na drugi brzeg popłynęliśmy promem (1 marynarz i 4 marynarki).
W Annopolu - niespodzianka! ksiądz rowerzysta i fanatyk przyrodniczej fotografii. Piotrawin to kościół i zbliżająca się burza. Rano siąpi, wsiadamy na rowery i jedziemy do Kazimierza Dolnego, na rozgrzewkę ostry podjazd i... Kazimierz zdobyty! Wzdłuż naszej królowej rzek jedziemy w stronę Puław muzeum regionalne w remoncie ale Czartoryskich można zobaczyć. Jedziemy zobaczyć Muzeum Nietypowych Rowerów i piękny renesansowy kościół (Gołąb). Docieramy do Dęblina, twierdzy z pierwszej poł. XIX w.,
Wyższej Szkoły Oficerskiej Sił Powietrznych, burza i deszcz, śpimy w kontenerze a zapiekanki, pyszne po 5 zł.
Od Dęblina jedziemy pod wiatr do Kozienic - trzy obiekty: muzeum, kościół i elektrownia. Wiatr nie ustępuje, pobocza brak, kierowcy wkurzeni, bo remont i mijanki. Każdy rowerzysta wie - co to znaczy! Trzymamy się dzielnie ale w Mniszewie robimy dłuższy postój, 8 ha a na nich sprzęt bojowy. Rok założenia 1977.
21.07. Czersk - Zamek Książąt Mazowieckich. Dla rowerzystów wejście za 2,50. Wzmożony ruch na drogach, czuje się na plecach oddech stolicy. W Starej Papierni spotkaliśmy współpracownika pana Wejchera, który uratował ten zabytek dla potomnych. W Warszawie czeka na nas Ela, która zaprosiła nas do siebie na nocleg. Zwiedzamy po drodze Warszawę: Wilanów, fotka pod Belwederem, hołd Małemu Powstańcowi i jesteśmy w gościnnych progach naszej rowerowej koleżanki.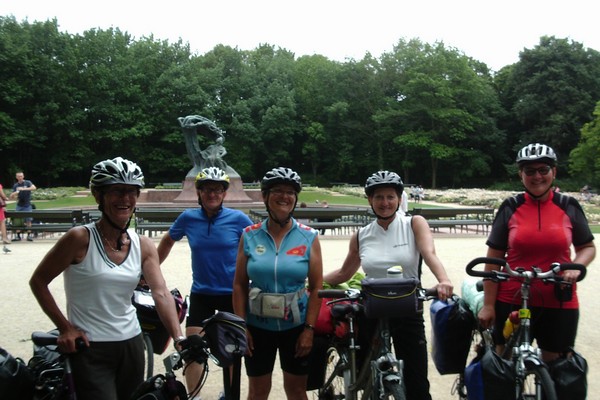 Uczestnicy wyprawy: Mira, Marek, Ania, Wiesia, Asia
Na moim liczniku miałam 792 km, niestety musiałam wrócić do Łodzi, ale Marek, Wiesia, Mira i Asia udali się w dalszą drogę... aż do Włocławka
Ciąg dalszy nastąpi....
Tekst, foto: Ania D.