25.03.2012 wycieczka niedzielna

Żeby tradycjom łódzkiej turystyki rowerowej stało się zadość, ŁKTK zorganizował w dniu 25 03 2012 kolejną niedzielną wycieczkę rowerową. Po raz drugi w tym miesiącu prowadzoną pod przodownictwem Andrzeja Gawrońskiego.
Po przywitaniu się, kol.Andrzej przedstawił nam krótki zarys trasy, i atrakcje jakie dla nas przygotował. Wycieczka przebiegać miała śladami bitwy łódzkiej, i cmentarzy z I wojny światowej, przez miejscowości: Mileszki Wiączyń Eufeminów Adamów Małczew las Pustułkę Witkowice Przanówkę Gałkówek, Gałków duży i mały Las Pekin Justynów Kraszew Zieloną Górę Bukowiec Wiśniową Górę Feliksin Jędrzejów i zakończyć się na Młynku.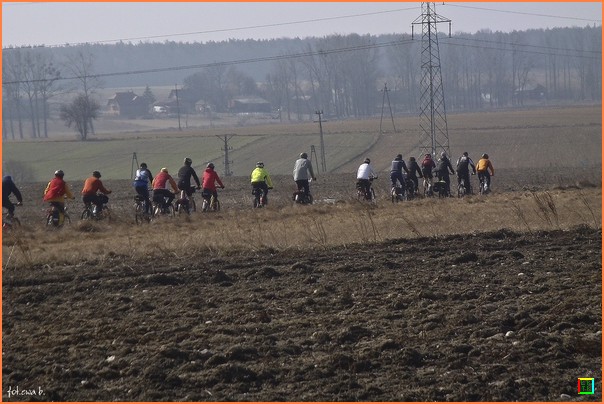 Ruszyliśmy przez Śródmieście i Stoki do Mileszek - niegdyś podłódzkiej wsi teraz włączonej do aglomeracji. W Mileszkach zatrzymaliśmy się pod drewnianym kościołem, jak nam opowiedział Andrzej ponoć największym i najstarszym z drewnianych w Łodzi.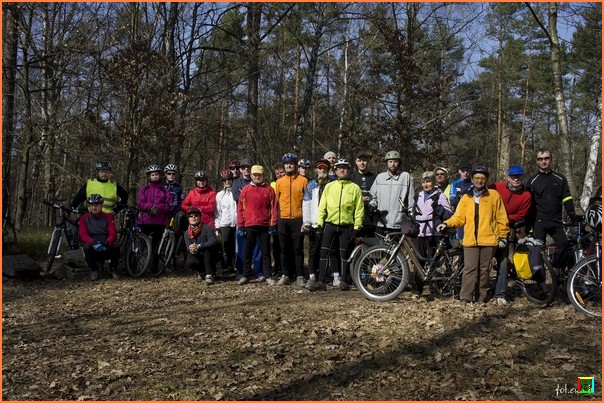 Ponieważ było jeszcze przed mszą, mogliśmy bez przeszkadzania wiernym zajrzeć do wnętrza świątyni. Następnie udaliśmy się drogą gruntową do miejszowości Wiączyń, gdzie tuż za leśniczówką, pośród drzew na skraju lasu, malowniczo położony jest największy cmentarz bitwy łódzkiej na którym pogodzeni w obliczu śmierci spoczywają żolnierze armi rosyjskiej i niemieckiej, o dziwo w większości noszący polskobrzmiące nazwiska, co świadczy o masowym wcielaniu Polaków do armii zaborczych.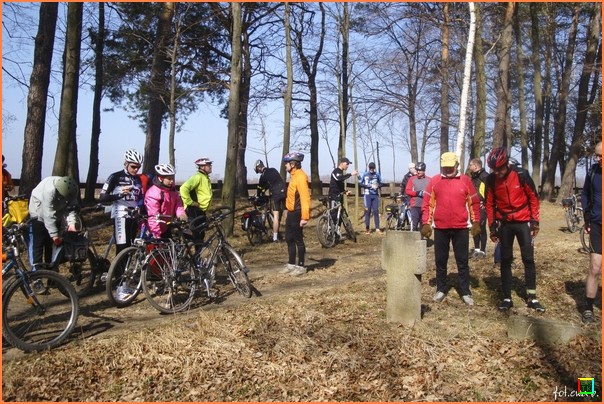 Historię bitwy łódzkiej oraz generałów Litzmanna i Budionnego opowiedzieli tym razem do spółki Andrzej Gawrońskii Wiesio Grabowski.
Po zwiedzeniu cmentarza i krótkim popasie w Lesie, wycieczka udała się w stronę Eufeminowa (rodzinnej miejscowości błogosławionej Faustyny Kowalskiej) ,dalej przez tereny wsi Jordanów i Adamów dotarliśmy do południowego skraju miejscowości Małczew, po czym wjechaliśmy do lasu Pustułka,w którym to na północno wschodniej rubierzy usytuowany jest także duży cmentarz z pierwszej wojny światowej, z okazałym obeliskiem i krzyżem w centralnej części.
Prowadzący tradycyjnie opowiedział ciekawje o miejscu do którego dotarliśmy. Wycieczkowicze odpoczęli, posilili się i po kilku minutach byli gotowi do dalszej jazdy.


Okrążyliśmy Las Pustułkę od północnego wschodu, i poprzez miejscowości Witkowice i Przanówkę, dojechaliśmy do Gałkówka, a następnie Gałkowów Dużego i Małego, gdzie zatrzymaliśmy się na podładowanie energii.przed miejscowym sklepem.
Po zakończonym postoju udaliśmy się drogą przy tartaku ( ach cóż za żywiczny zapach) do lasu o dziwnej nazwie: Pekin,gdzie jedni taszcząc rowery pod stromy piaszczysty podjazd, a inni bardziej niecierpliwi slalomując między gęstymi drzewami wjechali na szczyt wzgórza na którym znajduje się ścieżka dydaktyczna, cmentarz żołnierzy rosyjskich z pułku Syberyjskiego.mogiły żołnierzy niemieckich oraz polskich żołnierzy września 39 upamiętnionych głazem z inskrypcją, oraz figura wotywna Maryji Panny.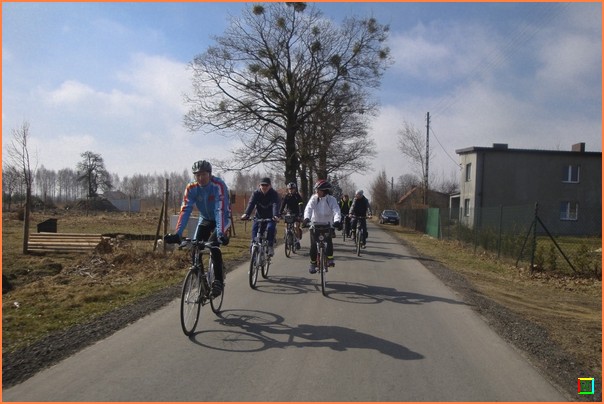 W tym brzemiennym historią miejscu, ustawiliśmy się do pamiątkowej fotografii całą grupą.
Następnie drogą przez las Pekin, i skrajem Justynowa dojechaliśmy do Zielonej Góry, ( nomen omen świetna nazwa turystyczna) przciąwszy rzekę Miazgę na wysokości Kraszewa i przejeżdżając las Bukowiec dojechaliśmy do następnej " górskiej " miejscowości Wiśniowej Góry.
Stąd poprzez Feliksin i ulicę Jędrzejowską ,dotarliśmy na kraniec Wiskitna.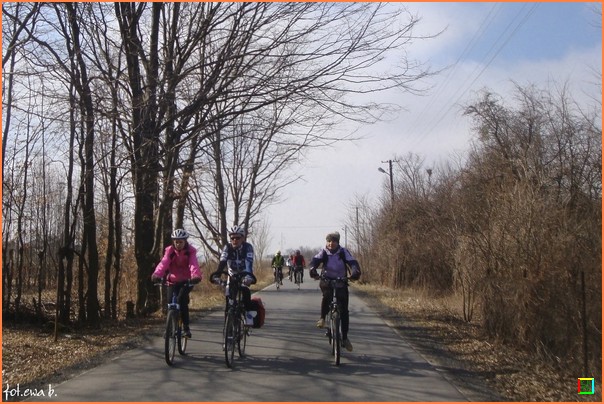 Ulicami Tomaszowską i Kotoniarską wycieczka zajechała na teren Mosiru Młynek, gdzie przed zakończeniem, Andrzej opowiedział jeszcze o młynach na rzece Olechówce od których to miejsce wzięło nazwę.
Wszyscy podziękowaliśmy za ciekawie poprowadzoną wycieczkę, niektórzy nawet brawami,i udaliśmy się do domów
Podsumowując
Pogoda - nienajgorsza
Trasa - bardzo ciekawa
Prowadzący - niezmiennie PRIMA! !!
---
Trasa wycieczki wg Barklu
---
tekst: Włodek Pastusiak foto: Ewa Barańska